New York City is the birthplace of Seamless Corporate Accounts. We've had 15 years to build our corporate catering network and today offer offices across NYC and the greater metro areas access to 100s of caterers. It doesn't matter where your office is located – the Financial District, Midtown Manhattan, Brooklyn, Queens, or Long Island City – we make it easy to order food for the office. Seamless will streamline all your catering orders for meetings, company events, or employee lunches through one account resulting in one invoice for your accounting team.
Seamless is an expert at helping offices of all kinds from law firms to tech start-ups to creative agencies and leading fashion companies.
---
NYC Caterers & Restaurants
Seamless offers a full range of corporate catering options in New York City. From casual sandwiches and salads for lunch to fine dining, there's a caterer for every occasion! Here's a sneak peek at our catering network. Contact us for a full list of restaurants and caterers that deliver to your office.
Between the
Bread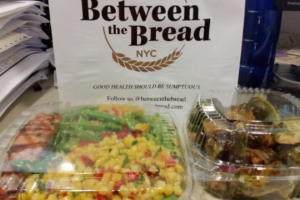 World-class cuisine for any catering need. Enjoy eclectic menus with a serious dose of fresh local products from Between the Bread catering.
Georgetown Cupcakes
Add that sweet touch to your next corporate event with Georgetown Cupcakes. A national favorite by many, these treats are perfect for meetings and office celebrations.
Chop't
Catering
Your office will love skipping the Chop't lines and still being able to enjoy the fresh ingredients from Chop't Catering, the salad destination of NYC.