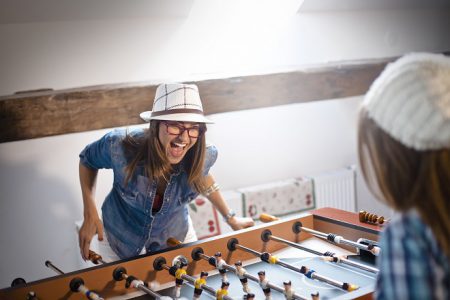 The Rio Olympics have been full of highs and lows, with dramatic wins and painful losses, countrywide celebrations and history-making achievements. As the Olympics wrap up this week, there's still chance to capitalize on Olympic fever in the workplace, and celebrate the diversity and competition that the games offer on a global scale. Here are our top tips to make your workplace medal-worthy.
1. HOST AN OFFICE GAMES
Has Carl, the copy guy, always boasted about how he always makes the best coffee? Or how about Shannon, taking pride in the fact that she always turns out the most entertaining office bulletins? Whatever "special skills" your coworkers offer, throw down the gauntlet and host an Office Games in your workplace. Or, design new games utilizing office equipment – like shooting rubber bands at a target. The games can run over a lunch hour or a week, with silly spot prizes or larger rewards like a late office start or a free day's vacation.
2. DELEGATE COUNTRY REPRESENTATIVES
The Olympics offers an ideal time to celebrate diversity, so use the Games as an opportunity to let your international employees shout about their heritage, or designate a country to each person in the office and task them with representing that nationality for the week. They can host lunches of national foods, hang up flags, or spontaneously break out into the national anthem – you can always get into the competitive spirit and offer spot prizes for the most patriotic person.
3. HOST AN OLYMPIC TRIVIA NIGHT
We all know the coworkers who are obsessed with watching every single game in the Olympics, but the chances are, we've all been following the games in one way or another. Group your office into teams and host an Olympics-themed trivia night to see who's really been paying attention to the full Olympic news round-up. Questions can range from which athletes have won what, to more fun trivia options such as Athlete Village gossip.
4. WATCH YOUR TEAM BRING IT HOME
No matter where you come from, the chances are, your home country have done you proud in Rio. With so many achievements, there's a huge amount to celebrate as the Games come to a close at the end of this week. Set up a big screen to watch the final games or the closing ceremony, and theme the party around the medals your country has won, with different foods and decorations to represent the different medals and events.
5. OFFER OLYMPIC-THEMED INCENTIVES
If you want to engage your employees in some friendly Olympic-themed competition without causing office-based chaos, offer bronze, silver, and gold-themed incentives for athlete-worthy performance. Whether it's a certain benchmark of sales, exceptional team spirit, or simply for going above and beyond expectations, employees always respond well to rewards. You could offer individual on-the-spot prizes, or treat your team to lunch for being worthy of a medal.